What do we mean by safety online?
Exercising good all-round digital citizenship forms the foundation for remaining safe online. A strong, positive digital footprint and awareness of privacy issues can go a long way towards protecting one's safety. Nevertheless, safety remains a big concern for students and teachers and parents, and as we extend learning opportunities into online environments it is our duty to be aware of issues around cyberbullying in particular.
Cyberbullying, or the use of technology to intimidate and harass others (MediaSmarts – Cyberbullying Overview), continues to be a high-profile concern for parents and teachers when discussing the use of technology for learning. The fear elicited by media reports of tragic, high-profile cases may distort the realities of youth interactions online, and provoke an arbitrary one-size-fits-all response. Recent research by MediaSmarts digs into how youth actually behave online, and suggests the need for "more nuanced, contextualized, and evidence-based responses" (MediaSmarts: Young Canadians in a Wired World Phase III, Cyberbullying Executive Summary).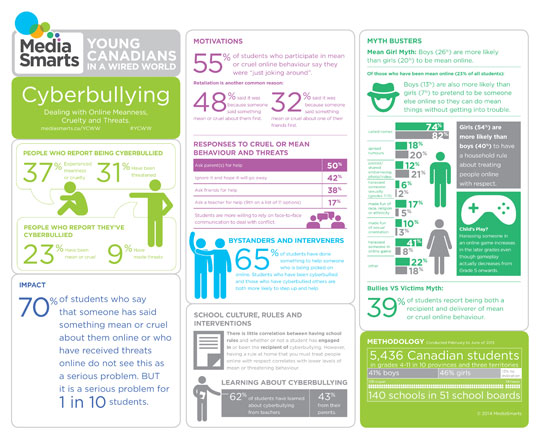 Why is it important?
There is no area of digital citizenship that raises more concerns with parents and teachers than online safety. Responses to concerns tend, in many cases, to be arbitrary rules based on fear. MediaSmarts research suggests that a more nuanced approach would be far more effective. "Since the harm of online meanness is not evenly distributed, one-size-fits-all solutions are unlikely to be effective. In addition to general initiatives to increase empathy and promote healthy relationships among students as a whole, we need targeted responses to protect the most vulnerable students from harm." (MediaSmarts: Young Canadians in a Wired World Phase III, Cyberbullying Executive Summary).
MediaSmarts goes on to suggest that "While it is good news the majority of students of all ages actively intervene to help others being cyberbullied, education may still be needed to give students the skills they need to navigate conflict in a safe, pro-social and respectful way." Resources and strategies suggested in this TALCO resource suggest critical thinking approaches to safety and cyberbullying, meaningfully integrated into relevant learning situations.
What do I, as a teacher, need to know and be able to do?
Have some knowledge about what the research says (see below) about children/youth and online environments: often (but not always) our students are more aware of Internet safety than we realize, and have related practical knowledge.
Understand the difference between the drama of teen life and how that plays out online, and more serious incidences of cyberbullying.
Make relationships between character education and digital citizenship so that these values can be applied to various situations.
Have a digital presence myself, and model appropriate online behaviours.
Integrate social networking technology (i.e., Twitter, blogging, YouTube, etc.) into classroom practice to model constructive use.
Have a working knowledge of:

popular student online environments, specifically social media sites,
privacy settings in popular online social medial sites, and
knowledge of how to find out more information and expertise.

Keep the conversation open and non-judgmental, and encourage discourse.
How do I use an inquiry approach to help my students develop knowledge and skills?
Teachers can plan inquiry-based activities that develop critical understanding of the nature of online environments. Activities should help guide students to an understanding of the connections between real world and online transactions. By integrating the use of social media into their lessons teachers can demonstrate the power of social media for learning and positive social and civic engagement.
Inquiry Activities
Use social media as instructional, research and communication tools within the school community (i.e., Twitter, Pinterest, Instagram, etc.)
Explore social media sites to discover how they work (i.e., a collaborative inquiry on the Terms of Service for popular services)
Have students explore and assess their privacy settings in their own social media profiles
Use technology to stimulate class discussions about safety online.
Best on the Web
MediaSmarts Research: Young Canadians in a Wired World, Phase III:  Cyberbullying: Dealing with Online Meanness, Cruelty and Threats

Executive Summary

Full Report
Young Canadians in a Wired World, Phase III: Cyberbullying: Dealing with Online Meanness, Cruelty and Threats from MediaSmarts | HabiloMédias
MediaSmarts: Cyberbullying: Comprehensive resources for parents and teachers.
The CyberSafety Net: Resources aggregated by Coomera Anglican College, Australia.
Teacher's Toolkit from Common Sense Media: Standing Up, Not Standing By.
Resources from 2Learn.ca Education Society: Senior High Source – Safety
RCMP Lesson Plan: Cyberbullying – Conflict, Appropriate Behaviour, Support.